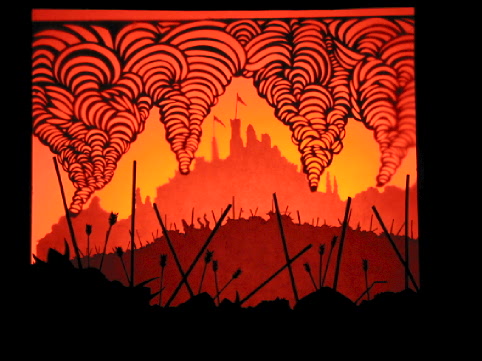 Killertree Records
Missoula, Montana
Welcome to the Killertree Records website - Purchases can be made through this site (please see procedures listed below) and please check for availability or with a distributor below.
NEW LP BY MORDECAI (Butte, MT)
OUT NOW
$15pp U.S./Canada
$25 World
OUT NOW!!!
"KILLERTREE DELETE BOX"
4cdr solo box set feat:
JOHN OLSON/RANDY LEE SUTHERLAND/
MIKE KHOUREY/BRYAN RAMIREZ
$20pp US/Canada
$25 World
POOR SCHOOL CASSETTE ON TUMMY ROCK $7pp
PAYPAL for available titles - [email protected]
STILL AVAILABLE:
POOR SCHOOL/WIGGWAUM SPLIT LP W/ BONUS CD
$15 US/$25 OVERSEAS
GERMAN CDR - $7/$10OVERSEAS
Wiggwaum/Poor School split lp Killertree Records ktr-13
There's no reason for Jazz not to attack - a split for all seasonz - SF's Wiggwaum terrorize the fuck outta sensibility and give no ga-damned reason for the scars - free sound IS supposed to make it feel not so right and this particular declaration is just the shit bomb hurled from many stories from above. Sometimes it's a Manson orgy audio buried in Death Valley, other times it's blissful fuckin' peaches falling from a Krishna tree. SF/Stereomother's Randy Lee Sutherland heads this one into the back alleys w/ some pals and lose sense of time and practicality in the best way possible.
Poor School on the other hand are just trying to make money by "righting" hit records, but they fuck up every time they pick up an instrument - but y'know, when you hear drummer Niekrasz pound out this morse code in "mean method" and the sax/gtr combo add to the arguement - just back off and let 'em justify their violent ambitions. Jazz wreckage and difficulties throughout. 300lps - screened covers by Randy Lee - bonus CDR of lp w/ 2 xtra tracks.
German - "Bunker" cdr Killertree Records ktr-12
Some trusta-irie chump sprawls his curry n' cloves apartment scent out in to the alley, jammin' Marley's "Could you be loved" and ready to give "great and good love" to some skinny-minnie broad (yeah, dreads) when the vibe gets reamed by trash can arguements and a scattered transmission (car), hurling down this sweaty purgatory. The doors/windows get locked and the trustas don't emerge for days from fear. Fear from music, man. German (Julian from skull-crushin' The Pope/L.A.) Give some unsettling electronic scabage - kinda like when The Residents were cutting their teeth on homemade sound devices, toss in some undanceable New Wave Hookers styled revelry, pull the plug on vision and fuck off to the rest of the kingdom. Limited to 45 copies
Ex-Cocaine/Yellow Swans - Split on NOT NOT FUN Records
NNF113—LP ($13 - for color wax - $10 for black wax)

"Two storied USA duo institutions share war stories across twelve miles of raw wax, and the rest of us are lucky enough to eavesdrop. Missoula, Montana's Ex-Cocaine continue roping that weird rambling wind that seems to stir the soul and keep America mellow, and the pair of anthems they jam out here encapsulates the whole breadth of their sea-to-shining-sea cosmosis. Plainsong guitar lassoes around loose-limbed percussion flame-fanning, building and burning till a boss bonfire glows on the horizon, then they close out the side with a ragged and earnest Meat Puppets cover that's become a live staple of late. Real and roamin'. On the B, Yellow Swans channel a supreme slice of psychedelic eulogy that cuts twice as deep with the knowledge that after many a summer (they birthed in 2002-ish) dies the Swan. Pete and Gabe's DYS saga has spanned the decade and their impending non-existence will be lamented all over the world, so the more 11th hour record books they want to stencil with their electric synergies, the better for all of us. R.I.P.eace out. In a stunning "sexy legs" kaleidoscopic masterpiece art jacket by Religious Knife Maya Miller. Half on bleached olive vinyl, half on black. Edition of 600. " - NNF
AVAILABLE GOODS
PLANTS LP - w/ Jeff Dunn/John Olson/Bryan Ramirez - ktr 11
from 12/15/93 - $10 pp/$20 elsewhere
&
PETE NOLAN/BRYAN RAMIREZ
collab cdr - ktr 10
$7 pp/$12 elsewhere
OUT ON SILTBREEZE RECORDS
EX-COCAINE - ESTA GUERRA
$10 IN US PP
$20 ELSEWHERE
PAYPAL - [email protected]
POOR SCHOOL - THE HOLY MASTER LP
OUT ON ECSTATIC PEACE
$10 BUCKS EACH
OTHER KILLERTREE STUFFAGE
Ex-Cocaine "Keep America Mellow" ktr-1 LP - The first birth from the heavy mellow bros jumbled cheaply, mumbled freely and played like fire coals through a setting sun. Plundering stoner folk to be enjoyed naked. This is their innocence since destroyed by wandering ears and those needing a gentle fix. SOLD OUT
Universal Indians "Monster Approach" ktr-2 LP - Tapes were dug out of the pisser and this 4 song LP was borned out of love and fear. Heavy fuggin' psych from the loving original line-up (not the "classic" line-up). Lo-fudge fuzz/wah/grumble taking High Rise & Jesse Harper & Vermonster's good name to the mountain. A loose cannon pumping out wild-eyed cannon balls. Heavy as air and able to fill every corner of your room with gray sound. Recorded in '94-'95. SOLD OUT.
Poor School "Hickory Disc" ktr-3 cdr - Not Avail
Poor School "What If You're Freeing Them" ktr-4 cdr - Not Avail
Poor School "#3 ktr-5 cdr - Not Avail
Poor School "The Holy Master" ktr-6 cdr - Re-released on Ecstatic Peace on vinyl.
Plants s/t ktr-7cdr - Full on vintage analog noize w/ Masta Jeff Dunn, Honest John Olson (Queerdaddies, Never Mind Baby) and myself pounding shit into dust/crust with our instruments talking to themselves. Pure sound that spews the breaking windows vibe. Y'ain't got an idea what yr getting into so I'll leave it at that. Further description below. Currently Sold Out - on vinyl only.
Universal Indians "Bought and Sold" ktr-8 dvd - Not avail
Poor School "Dream For Mat" ktr-9 cdr - Bros help out with sending fallen comrade to the invisible river in the sky by connecting via radio waves via free sound jazz wiff Sax/Drums/Guitar tapping into Art Ensemble/Sun Ra/Slayer/Black Flag. Solidly from the heart, soul and from the grime of the basement recorded in. Screwed up improv meant for desolate rivers, dreaming mountains and angry citizens ready for the takeover. Sold Out
Please email for U.S. & overseas wholesale prices.
PAYPAL for available titles - [email protected]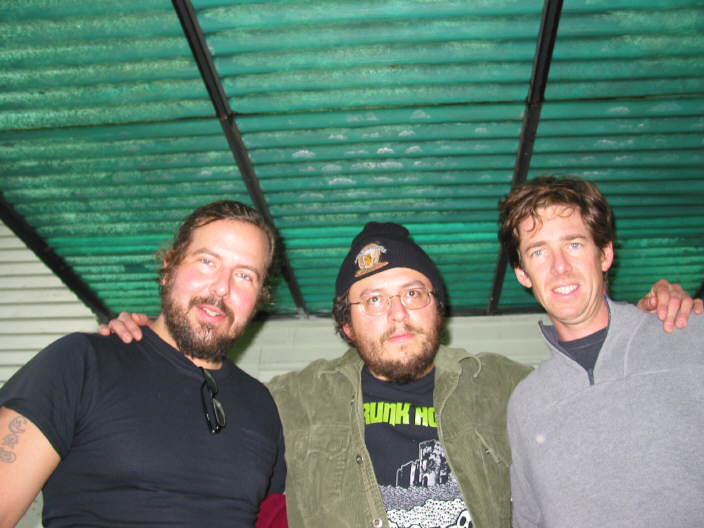 Olson/Ramirez/Dunn - Plants' bros reunite for first breakfast in 13 + years
OTHER RELEASES/EXTENDED FAMILY
EX-COCAINE/GHQ SPLIT 7" ON NOT NOT FUN - SOLD OUT
POOR SCHOOL - Voor Niets in Zijn CDR - available on Cut Hands from the Netherlands - serious pounding free sound - SOLD OUT - http://www.cuthands.net/
REMINGUEZ "Stupid With Brains" cdr out on CHOCOLATE MONK (UK) - Ramirez solo from '96 (1/2 of Breckman Duo) - Ramirez gets in an arguement w/ household equipment - and wins. This is now avail via Chocolate Monk & Volcanic Tongue (Link below)
Ex-Cocaine "Age Of Time" new release on Heavy Tapes currently avail through plenty of distributors - includes first ever Ex-Cocaine show. Score a copy of this killa scrud pronto.
EX-COCAINE "7 mirror lathes - http://www.wolfeyes.net/aareleases.html Mike C & Ramirez don guitars and roll their eyes back and play with the softest touch on painfully loud amps. Extremely beautiful looking and extremely limited - SOLD OUT
LINKAGE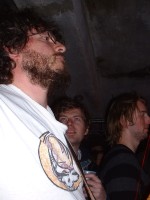 Ramirez y Nolan
Be our friend -
Killertree myspace- http://www.myspace.com/killertreerecords
Poor School myspace - http://www.myspace.com/PoorSchool
Ex-Cocaine myspace - http://www.myspace.com/excocaine
Mike C's solo myspace - http://www.myspace.com/themostunicorn
Hombres/Family/Labels/Connex, Etc -
American Tapes - http://geocities.com/americantapes/
Heavy Tapes - http://www.heavytapes.com/
Gods of Tundra http://www.geocities.com/godsoftundra/
Entropy - http://www.entropystereo.com/
Wantage USA - http://www.wantageusa.com/
Ecstatic Peace - http://www.ecstaticpeace.com/
Belco- http://vampirejets.blogspot.com/
Siltbreeze - http://www.siltbreeze.com
Chocolate Monk - http://www.pinktoes.net/chocolate_monk.htm
Cole (the dude that takes some of the freaky pix on this page) http://holotone.net/
DISTRO -
U.S.
Eclipse - http://www.eclipse-records.com
Fusetronsound - www.fusetronsound.com
Flipped Out Records - http://www.flippedoutrecords.com/
Revolver - http://www.midheaven.com/
Yod - http://www.yod.com/
EUROPE
Volcanic Tongue - http://www.volcanictongue.com/
Freaksendfuture - http://www.freaksendfuture.com/
CONTACT - [email protected]